Unionized Construction Work is Safe Work VIDEO
31% SAFER: The Union Safety Effect – INFOGRAPHIC
31% SAFER: The Union Safety Effect – SOCIAL MEDIA GRAPHIC
31% SAFER: The Union Safety Effect – PARTNERSHIP POSTER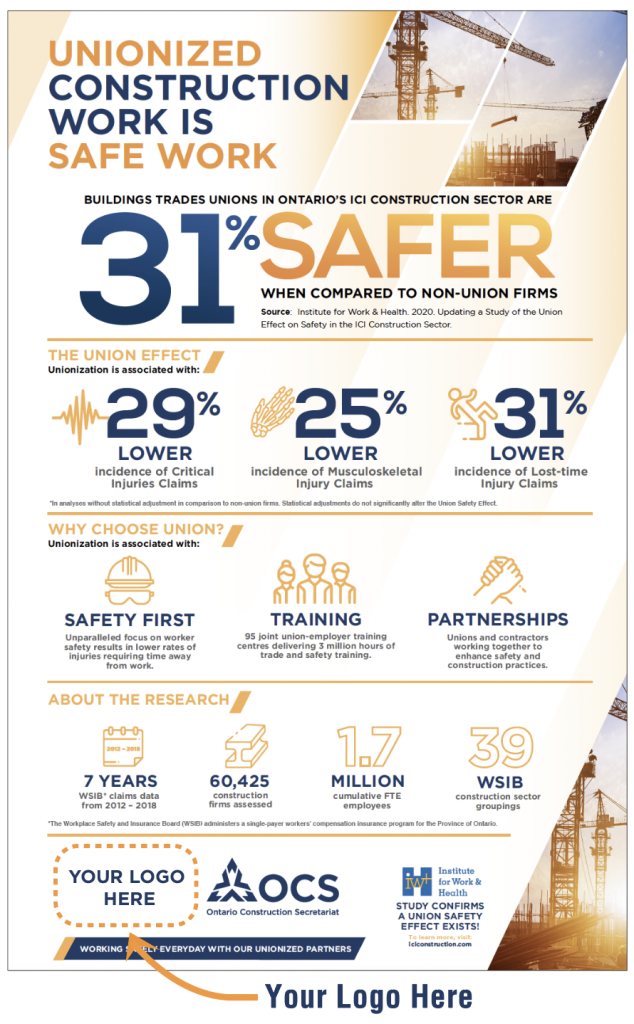 Have your organization's logo added to the poster!
A co-branded version of the 'Unionized Construction Work is Safe Work' poster is available to building trade union organizations and/or their contractor partners upon request. The OCS will require a high-res file of your logo, and we will prepare a digital and/or print-ready file for you to use in your promotion efforts.
To request a version of the partnership infographic, send us an email along with your hi-res logo to info@iciconstruction.com
31% SAFER: The Union Safety Effect – PRESS RELEASE
A new study by the Institute for Work and Health has found that lost-time injury claims to the Workplace Safety and Insurance Board (WSIB) are 31% lower on unionized building trade construction jobs than they are in a non-union environment. The study, Updating a Study of the Union Effect on Safety in the ICI Construction Sector, also found that claims for severe injuries are 29% lower on union job sites.
31% SAFER: The Union Safety Effect – REPORT
The study analyzed WSIB data from more than 50,000 companies representing 1.7 million workers in the Industrial, Commercial and Institutional (ICI) construction sector between 2012 and 2018. The study is a follow up to a similar analysis completed in 2015 with data up to 2012, with similar conclusions: unionization is associated with lower risks of lost-time claims including both musculoskeletal and the more severe critical injuries.
Furthermore, the updated study has found the "union safety effect" has strengthened over the past five years, when claims from unionized construction workers were 23% lower compared to unrepresented construction workers.