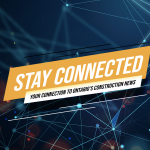 These are this week's top stories, regarding the construction industry in Ontario, that you need to know.
Ontario is changing the way it funds long-term care home construction in a bid to spur more development across the province. The provincial government says the creation of thousands of needed beds has been slow, so it will change the way it funds the projects. Officials say the new formula will pay builders more and include grants to cover up to 17 per cent of up-front capital costs.
The City of Toronto has achieved a construction milestone in the strategic rehabilitation of the Gardiner Expressway between Jarvis and Cherry Streets. Crews have replaced the concrete deck and steel girders on the north half of the expressway, the westbound off-ramp to Sherbourne Street and repaired the westbound off-ramp to Yonge-Bay-York Streets, and will now transition to renew the south half of the expressway for the final phase of work.
Ontario General Contractors' Association (OGCA) president Giovanni Cautillo wrote this message for the association's weekly newsletter. His points here have relevance to members and non-members alike.
Recently, the OGCA has needed to intervene with certain owners based on their continued use of problematic contract language. One of the fundamental aspects of the OGCA has been our approach to protect our contractors against "questionable" contract language. I understand that this has been an issue for as long as owners have been around, but the OGCA is taking a concerted approach to changing problematic contract language.
A new Highway 7 will be built to connect Guelph and Kitchener, the provincial government confirmed on July 15. The construction project will consist of an 18-kilometre, four-lane highway with seven interchanges connecting the Hanlon Expressway with Highway 7 in Kitchener. It will also include new bridges over the Grand River. Procurement and tender for the project could start next year for the multi-year project, Kitchener-Conestoga MPP Mike Harris announced on Zoom.
DataBid is introducing a virtual classroom training program, "hosted by top industry experts". The online events go beyond an automated resource; there is a real-life (live) instructor and opportunity for participants to communicate as they learn.
New Yorkers have lodged 6,127 complaints against contractors for Covid safety violations since 30 March using the city's 311 phone system, a DOB spokesperson told industry news site Construction Dive. The DOB unveiled its Covid safety protocols on 8 June, but gave the industry a month's grace period to get used to them.
That ended on 8 July, when inspectors began enforcing the rules with civil penalties of $5,000 for each offence and $10,000 for repeats. Apart from the stop-work orders, 47 other citations were issued in the first week of enforcement.
Learn about face coverings and how to properly wear, fit, remove and clean your non-medical face mask.
The best way to stop the spread of COVID-19 is by staying home and avoiding close contact with others outside of your household. It is recommended that you use a face covering (non-medical mask such as a cloth mask) to reduce the risk of transmission of COVID-19 when physical distancing and keeping two-metres' distance from others may be challenging or not possible.
New data from Statistics Canada has shown that ICI investment in Ontario rebounded to pre-pandemic levels in May after falling by more than half in April. Similar patterns were observed in all of Ontario's sixteen metro areas.
Despite the April collapse, ICI investment in Ontario for the year so far (January-May) is actually just as high this year as it was at the same point in 2019. Toronto, Ottawa and Hamilton have also seen little change in their year-to-date ICI investment numbers, but in other metro areas there have been significant fluctuations both positive and negative.
Click here to see the full OCS Economic Update bulletin with detailed analysis.
Annual General Meeting & Conference 2020
The 2020 Ontario Construction Secretariat Annual General Meeting & Conference was scheduled to be held at the Queen's Landing Hotel at Niagara-on-the-Lake on October 7 & 8, 2020.
Please continue to hold this date as we make final decisions and navigate through the changes COVID-19 will have on our event. We are grateful for your continued support and thoughtful concern for the greater community.
Additional Information Sources