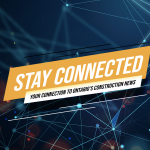 SIGN UP FOR STAY CONNECTED BY FILLING OUT THE FORM BELOW.
These are this week's top stories, regarding the construction industry in Ontario, that you need to know.
Walmart Canada will spend $3.5 billion over the next five years to generate significant growth and make the online and in-store shopping experience simpler, faster and more convenient.
The Ontario government will be fast-tracking the construction of two long-term care homes in Mississauga, to create 640 new long-term care beds by next year.
As governments look to stimulus investments in infrastructure as a vehicle for economic recovery, there is an opportunity to support Ontario's workforce to ensure the building industry can help meet Canada's climate goals and create jobs, with equity and inclusion at the forefront. Workforce 2030 brings together a broad, cross-sectoral coalition of employers, educators, and workers in the building sector in an unprecedented collaboration to fast-track workforce development.
All over the world, architects and engineers are crafting cutting-edge skyscrapers from one of the most renewable and sustainable materials available to humanity — wood.
In Canada, buildings account for 12.7 per cent of national greenhouse gas emissions. Globally, buildings lead to 40 per cent of total emissions. For Canada, a country with abundant wood resources, investing in new tall wooden building construction is an opportunity for sustainable economic growth — but challenges remain.
The Ontario government, in partnership with the federal government, is providing up to $4 billion in one-time assistance to Ontario's 444 municipalities. The cash injection will help local governments maintain critical services including public transit, over the next six to eight months. Details on specific allocations will be provided in the coming weeks.
Aecon Group Inc. swung to a loss in the second quarter as some construction projects were slowed by the COVID-19 pandemic and its stake in Bermuda's airport operations was hurt by a suspension of flights. The Toronto-based construction firm says it lost $6.2 million for the period ended June 30, compared with a $20.4 million profit a year earlier. That translated into a loss of 10 cents per dilute share, down from a profit of 31 cents per share in the prior-year quarter.
There is little doubt about the wide-ranging and long-lasting impact of covid-19 on the world, not least the UK. With almost all sectors drawing to a halt throughout the spring, much of the government's focus, as we ease our way out of lockdown, is on getting the economy back on track.
With industry, investors and the public calling for sustainability strategies to be accelerated, we are now faced with a once in a generation opportunity to deliver a green recovery from the Covid-19 crisis.
When the COVID-19 started spreading in Ontario and disrupting construction projects, Max Cucchiella put his construction company on hold and started The Como Foundation – to create personal protective equipment for health care workers. When he was contacted by the Bob Rumball Home for the Deaf in Barrie the foundation took on a new project.
Construction companies whose employees are undertaking hot works have been warned about the risk alcohol-based hand sanitizers pose.
Safety consultancy CE Safety issued the warning about the sanitizers, now found on sites throughout the UK to reduce the spread of Covid-19, after a worker at an unnamed firm repairing gas pipelines used alcohol gel and later came into contact with a static spark, which ignited the gel and gave them second-degree burns on their hands. The firm is now providing workers with alcohol-free hand sanitizer.
Stay Connected – July 24, 2020
Additional Information Sources