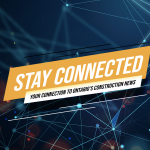 SIGN UP FOR STAY CONNECTED BY FILLING OUT THE FORM BELOW.
These are this week's top stories, regarding the construction industry in Ontario, that you need to know.
Annual General Meeting and Conference
As the evolving impacts of COVID-19 ripple through the province, we have decided to shift our Annual General Meeting & Conference from an in-person event in Niagara-on-the-Lake to one that is 100% digital. While this virtual event is being produced out of an abundance of caution and care, we are nevertheless excited to deliver the great lineup of content planned for you.
To that end, we ask you to continue to hold the date of October 6, 2020.
In response to the question posed in the title of this article, I can sum up the entire editorial in just one word: completely. I could have also used the words incredibly; definitely; absolutely; invariably; and vastly to also provide you with the causal link to the amount of time and effort that is placed into the information contained within project documents and the resultant price.
Construction and infrastructure sectors see uptick in alliance contracting
Alliance of parties who deliver the project assume less risk; model is suited to complex projects
Alliance contracting – akin to the integrated project delivery or progressive design-build infrastructure delivery models – involves a single contract between the project owner/financier/commissioner and an alliance of parties who deliver the project or service. Lawyers who practise in the construction and infrastructure sectors say they have seen an uptick in alliance contracting, which is best suited to projects with considerable and ascertainable risks, and where multiple owners may be involved.
The Ontario government is investing over $2.2 million in supportive housing to give those who are most at risk of homelessness in Niagara Region housing and support services.
Police investigating hate crime: Carpenters' Union removes individual after noose found hanging at a Toronto LRT construction site
The Carpenters' District Council of Ontario (CDCO) says it has removed a member after a noose was found hanging at an Eglinton Crosstown LRT construction site last Tuesday. After a review of the events, Local 27 issued a press release confirming it requested and received a resignation from an individual who had recently joined the CDCO.
A labour union representing Ontario's construction industry says its members won't use the federal government's new COVID-19 tracking app because it requires the use of smartphones, which are prohibited on job sites for safety reasons.
Instead, Joseph Mancinelli, the international vice-president of the Laborers' International Union of North America (LiUNA), is urging the government to adopt a made-in-Ontario app that includes "wearables," which feature technology that can be worn on a bracelet or carried in a wallet.
An economic recovery blueprint from Hamilton's Chamber of Commerce says moving forward on the LRT project is one of several ways that the city can bounce back from the COVID-19 pandemic. The recommendations in the report range from short term to long term, with LRT highlighted as a 'shovel-ready' project that would "deliver the most substantial long-term economic benefits."
The City of Ottawa has published a detailed guide to filing and managing planning and heritage review applications to its Planning, Infrastructure and Economic Development Department (PIED), reflecting the city reaching Stage 3 within province's COVID-19 emergency controls. It also has reported on progress on construction building inspections and building permit approvals as extreme restrictions imposed at the pandemic's height are eased.
When the COVID-19 started spreading in Ontario and disrupting construction projects, Max Cucchiella put his construction company on hold and started The Como Foundation – to create personal protective equipment for health care workers. When he was contacted by the Bob Rumball Home for the Deaf in Barrie the foundation took on a new project.
U.S. House members have filed a bill to set up a private infrastructure bank designed to provide more than one trillion dollars to rebuild America's crumbling bridges, tunnels, roads, railways, airports, electric grid and more. The new bank could break a logjam in Congress that has lasted more than a decade. Republicans and Democrats, Congress and the President all say they recognize the need for reviving U.S. infrastructure, but there is no money in the Treasury to fund projects.
Additional Information Sources