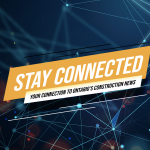 SIGN UP FOR STAY CONNECTED BY FILLING OUT THE FORM BELOW.
These are this week's top stories, regarding the construction industry in Ontario, that you need to know.
A recent survey of 1,500 18 to 36-year-olds by Electricity Human Resources Canada (EHRC) has found that fewer young people choose to work in the electricity sector compared to other industries because they are unaware of potential career opportunities. "Fundamentally, what this study told us, that it is less to do with the fact youth don't want to work in electricity than it is that they don't know about it," says Mark Chapeskie, director of programs with EHRC.
Infrastructure Ontario has provided more details about the Accelerated Build Pilot Program which was launched by Premier Ford in July. The government is using a new funding model to encourage more long-term care facility construction, and an accelerated procurement model that involves competitive prequalification. IO is planning to use the Accelerated Build Pilot Program along with prefabricated building technology to build four long-term care facilities in the GTA.
OGCA and CDAO each presented to the provincial legislature's Standing Committee on Finance and Economic Affairs recently, asking the government to commit to stimulus infrastructure spending. They also made cases for intervention by the Ontario government into the interpretation of force majeure clauses in contracts, and discussed providing relief from creditors and streamlining the project approvals process.
Federal Minister of Infrastructure and Communities Catherine McKenna recently announced a new $3.3-billion COVID-19 Resilience funding stream under the Investing in Canada Infrastructure Program. The accelerated funding stream is intended to make it easier for provinces and territories to use federal funding for pandemic-resilient infrastructure projects. Examples of potential projects include: retrofitting schools, upgrading hospitals and long-term care homes, building parks, cycling and walking paths, and projects to protect against floods and fires.
Statistics Canada released new employment and building permit data recently, showing continued employment growth but setbacks in ICI permitting. Among the highlights:
Construction employment has increased for the third consecutive month but is yet to reach pre-pandemic levels
Ontario's unemployment rate fell for second consecutive month
Commercial building permit values have dropped to a four-year low in June, leading to a significant decline in ICI permitting
Year-to-date ICI permit values are still on par with 2019
Click here to see the full OCS Economic Update bulletin with detailed analysis.
Buildots, a startup based in Tel Aviv and London, has raised funding that will help it bring its computer vision-based technology to the construction industry. The startup has developed hardhat-mounted 360-degree cameras that can monitor the status of a construction project. It uses software to compare the architectural plans and schedule to the images captured by the 360-degree cameras. It can immediately detect when something in the plans is missing or out of place.
Hilti has launched an exoskeleton designed to reduce strain on construction workers. The EXO-O1 exoskeleton is said to alleviate 47% of the stress from a worker lifting their arms above their head. It will be available in Sweden within the next month and in the U.S. later this year. It is not clear if it will also appear in Canada this year.
The Daniels Corporation has revealed that a mechanical failure was the cause of a recent crane collapse in Toronto. The stationary crane fell into the street at the intersection of River Street and Dundas Street East, with minor injuries reported. This was the second crane collapse to occur in Toronto within a month. The first was a crane from a PCL site that fell at 160 Front Street in mid-July.
Project Etopica, a UK modular construction firm, has claimed that it is the first housebuilder in the world to achieve both the Carbon Neutral International Standard and join the United Nations Climate Neutral Now Initiative. The firm offsets its carbon emissions using UN-certified emission reductions (CERs) and voluntary emission reductions (VERs). It has also disclosed a plan to reduce its carbon emissions year on year. The firm's manufacturing facility has the capacity to produce more than 2,000 modular homes per year.
Infrastructure Ontario announced the shortlisted bidders for two Toronto transit projects: Scarborough Subway Extension Advanced Tunnel Project and Eglinton Crosstown West Extension Advanced Tunnel Project. The teams will be invited to respond to an RFP this summer, with IO and Metrolinx expecting to award the contracts in mid-2021.
Groves Memorial Community Hospital in Wellington County was opened on August 7 with Premier Doug Ford deputy premier and health minister Christine Elliot among the dignitaries taking part in the ribbon cutting. The Infrastructure Ontario project reached substantial completion in February. EllisDon was the general contractor on the $127.5 million, 158,000-square-foot facility.
Another EllisDon hospital project, the Brockville General Hospital (BGH) redevelopment, has reached substantial completion. The new $131.2 million, 175,000-square-foot patient tower was handed over to the head of the hospital on August 11.
Additional Information Sources