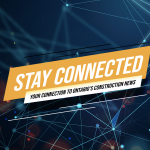 SIGN UP FOR STAY CONNECTED BY FILLING OUT THE FORM BELOW.
These are this week's top stories, regarding the construction industry in Ontario, that you need to know.
 "I am cautiously optimistic for the balance of 2020 given the current amount of work already underway" – Katherine Jacobs, Director of Research
Recent construction statistics showing a catering in the value of ICI building permits in June are not necessarily cause for alarm. Reporting August 11 on recent Statistic Canada data, the OCS found that Ontario's ICI permit values declined by 18 per cent in June after increasing to pre-pandemic levels in May. June's ICI permits were valued at just over $1 billion, the lowest monthly in two years aside from April 2020.
The Ontario government is one step closer to getting shovels in the ground on part of the largest subway expansion in Canadian history with the expectation that the Request for Proposals (RFP) to advance tunnelling work on the Scarborough Subway Extension will be issued in the coming days.
Ontario's women leaders in construction

:

Flordeliza Moton oversees complex projects for Corebuild Construction with education, networking, and hard work
 Flordeliza Moton has earned her success overseeing sizeable and complex projects for Corebuild Construction through a combination of education, networking, competence, and hard work. She says she was inspired by her older brother and decided to follow up on his encouragement to pursue a similar career – earning a civil engineering degree with full scholarship and, after graduating, working "for a small construction company where I learned and developed my professional skills."
Ontario will spend $768,000 to help people find construction jobs in Brantford. The Skills Advance Ontario project "Construct Your Career" will help 60 unemployed job seekers gain the skills and work experience sought by construction employers in the Brantford region.
Municipalities will get $30 million through the Ontario Connecting Links Program for 2021-22 to build, repair or replace local roads and bridges. The investment will help create jobs and keep people and goods moving as the province continues to recover from COVID-19, says Premier Doug Ford.
The Main Street Design Challenge – developed by the Canadian Urban Institute (CUI) and the Royal Architectural Institute of Canada (RAIC) – invites all Canadian to develop solutions that can help build the resiliency of Canada's main streets.
The Challenge was created to generate responsible, sustainable, and resilient design solutions that can be implemented during COVID-19 recovery, and post-pandemic, for Canada's hard-hit main streets.
The Ontario government, in partnership with the federal government, will provide municipalities with up to $1.6 billion as part of the first round of emergency funding under the Safe Restart Agreement. Funding will help municipalities deliver critical services, such as public transit and shelters, as the province continues down the path of renewal, growth and economic recovery.
Boring old bricks might not seem like something that can really be made high-tech, but researchers keep proving us wrong. Now, a team has found a way to turn bricks into energy storage devices, using them to power a green LED in a proof of concept study.
AMO 2020 Virtual Conference highlights
Thank you to everyone who joined us at AMO's virtual conference and stopped by our booth to say hello. Although we could not be together in person in Ottawa, it was nice to engage with municipalities across the province and connect with some familiar faces!  Some conference takeaways include:
Premier Doug Ford's remarks at the 2020 AMO Conference
Premier Ford delivered a message of hope at the AMO 2020 virtual conference. He announced the continuation of the $500M Municipal Partnership Fund through 2021 as the province continues to rebound from the pandemic lockdown. The Premier also spoke about the government's commitment to invest in critical infrastructure.
Steven Del Duca's remarks at the 2020 AMO Conference
Liberal Party Leader Steven Del Duca thanked local municipalities for their leadership and thoughtfulness as front-line leaders during the COVID-19 pandemic. He stressed the importance of delivering on broadband, immediate relief and support for Ontario's small businesses and the need for a stable public education system as Ontario continues its recovery.
Andrew Horwath, Leader of the Official Opposition address at 2020 AMO Conference
In her address to delegates, Andrea Horwath focussed on the need for transparency and firm commitments from the provincial government. Noting that the status quo is not good enough, she emphasized that municipalities need stable funding and a solid province-wide plan to assist in building a new normal and a better future for their citizens.
The Hon. Laurie Scott, Minister of Infrastructure address at 2020 AMO Conference
Infrastructure Minister Laurie Scott kicked off the Ministers' Forum on Infrastructure, Transit and Resource Development encouraging municipalities to "get those shovels in the ground". She spoke about investments in healthcare, LTC and broadband as key priorities and their commitment to the $60B pipeline of P3 projects delivered through Infrastructure Ontario. During the bearpit session, Ministers addressed questions about broadband, sustainable housing, disaster mitigation, transit, long term energy plans and recycling.
Additional Information Sources