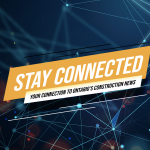 SIGN UP FOR STAY CONNECTED BY FILLING OUT THE FORM BELOW.
These are this week's top stories, regarding the construction industry in Ontario, that you need to know.
Recent data from Statistics Canada has shown that ICI investment reached an all-time high in Ontario in June. For the year so far (January-June), all three ICI sectors are up compared to the same period in 2019. The same can be said for 13 of Ontario's 16 metro areas.
BuildForce released a new report recently, updating its construction and maintenance investment forecast. It is expected that non-residential investment will be down by about 3% this year but rebound in 2021 with an increase of about 6%.
Annual General Meeting & Conference 2020
The OCS AGM & Conference 2020 will be held on October 6, 2020 as a virtual event. Registration opens next week so keep an eye on your inbox!
ECAO releases anti-racism toolbox to assist member companies in light of recent incidents in Toronto
Racist actions, activities, tones, or remarks have no place in Ontario workplaces including construction sites! To assist and educate their member companies and their employees on what racism is, how to recognize it on construction sites, and how to eliminate it for the good of all; ECAO has developed the toolbox talks and accompanying poster which can be found on their website at www.ecao.org.
Soaring lumber and wood panel prices are adding thousands of dollars to the cost of building a home in Canada as strong renovation and new housing demand outstrip supply. Homebuilders say increases this year to date will translate into $8,000 to $10,000 more to build a typical single-family house in Canada.
Like many other groups, the Ontario Construction Careers Alliance (OCCA) has had to get creative to engage students during the coronavirus pandemic.
The mandate of the alliance is to promote construction as a first-choice career pathway in high schools, job fairs and other events, but COVID-19 has made that task challenging.
Ontario General Contractors Association (OGCA) president Giovanni Cautillo made a second presentation to the provincial legislature's Standing Committee on Finance and Economic Affairs last Wednesday. In this presentation, he focused on the impacts of COVID-19 on small and medium-sized general contractors.
Should COVID-19 cases start climbing once again, "the industry is ready," the CEO said. "There is enormous collaboration, and if a second wave were to happen, we would quickly be able to react. We would do whatever is required to ensure the industry doesn't stop."
Construction experts see a future for the industry that draws resources close but expands to different forms and functions.
Multiplex Canada president and managing director Terry Olynyk, Reliance Construction Group principal Bryan Kaplan and Bockstael Construction president and past Canadian Construction Association (CCA) chair John Bockstael all pointed to lessons learned from the initial rush to lockdown at the beginning of the COVID-19 pandemic and the way forward for both their firms and the industry.
Those who work in the industry have always known it, but COVID-19 made it clear to the public: construction is essential. Through thick and thin, the unionized construction industry remains the vital sign of America. These workers erect critical infrastructure — from highways and airports to schools, government buildings, and health-care facilities. During times of crisis, these construction workers possess unique skills to quickly transform non-traditional spaces into critical care centers.
Additional Information Sources