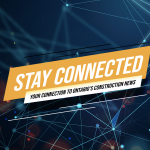 SIGN UP FOR STAY CONNECTED BY FILLING OUT THE FORM BELOW.
These are this week's top stories, regarding the construction industry in Ontario, that you need to know.
Annual General Meeting & Conference 2020 –

Registration NOW OPEN!
The Ontario Construction Secretariat 2020 AGM & Conference is going virtual on Tuesday, October 6, 2020 and we hope you can join us.
We are excited to see the return of Benjamin Tal, Deputy Chief Economist for CIBC World Markets who will discuss the current economic climate and possible outcome as we emerge from COVID-19.
Check your inbox for registration details. If you have any questions, please do not hesitate to contact us at info@iciconstruction.com or 416-620-5210.
A historic partnership — between the Building and Construction Trade Unions of Eastern Ontario and Western Quebec (BTC) and The Ottawa Hospital (TOH) — was struck in commemoration of Labour Day 2020 and to launch the next stage of  development for the new Civic hospital development.
Provincial education and labour ministers promote trades careers during London visit
With Ontario facing a shortage of skilled trades workers, the province is pumping $43 million into luring more young people into that line of work.
The Ontario Government is investing $43 million in expanded youth training programs to give young people exposure to more employment options. The programs will help increase awareness and encourage youth to acquire the skills that will start them down the path to lifelong success while supporting Ontario's economic recovery and future prosperity.
The newest effort to streamline Ontario's project approvals process through e-permitting recently picked up momentum with the announcement that the Residential Construction Council of Ontario (RESCON) has joined the fledgling One Ontario Program.
Eco-friendly technology could potentially replace concrete and revolutionise sector. Scientists have developed a method to 3D-print greener buildings using local soil that they say has the potential to revolutionise the construction industry.
A lumber shortage caused by COVID-19 supply and demand pressures is causing delays and price increases for residential builders and renovators, the Ontario Home Builders Association (OHBA) says.
Toronto presented a COVID-19 Resurgence Plan on Monday, outlining priorities and actions the city will implement in the event of a second wave of COVID-19. A review of the COVID-19 response during the first wave helped identify what "worked well, challenges and practical actions to improve preparedness for future resurgences of COVID-19."
For a few years now the CIOB has been raising awareness of an impending skills shortage in our industry. We have raised it with parliamentarians, we've supported industry initiatives to attract new talent, we've even tried to introduce the benefits of a career in the built environment to children via our Minecraft game
German state of Baden-Württemberg follows basic logic and requires that all new non-residential buildings have solar panels on them. The truly amazing thing is that it's not even hard to make the shift away from pollution. Solar power and wind power are cheaper than new fossil fueled power plants in most places and could replace existing fossil fueled power plants at negligible cost.
The World Trade Organization dispute-resolution panel declared that the U.S. Department of Commerce and the U.S. International Trade Commission were wrong in 2017 when they imposed countervailing duties on Canadian softwood lumber exports.
Additional Information Sources