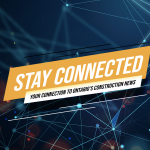 SIGN UP FOR STAY CONNECTED BY FILLING OUT THE FORM BELOW.
These are this week's top stories, regarding the construction industry in Ontario, that you need to know.
Just announced… Keynote Speaker at 2020 OCS AGM
As the world around us has changed, what's next? Where will Canada go after COVID-19? Are we the same as we were before the disruption?
Register today for the OCS virtual 2020 AGM & Conference on Tuesday, October 6, 2020 to hear Darrell Bricker, Chief Executive Officer IPSOS Public Affairs deliver the keynote address.
"Understanding demographic change is critical to understanding Canada's Future".
-Darrell Bricker
You won't want to miss the return of CIBC's Deputy Chief Economist, Benjamin Tal, as he discusses the current economic climate and possible outcome as we emerge from COVID 19.
Labour Day 2020 – THANK YOU! 
On Monday, we celebrated our Labour partners and recognized the significant contributions unions have made in raising living standards and building a strong middle class.
Safer workplaces, better wages, health, and pension benefits, and of course the long weekend! We hope everyone enjoyed their day and stayed safe. THANK YOU!
See what others are saying about Labour Day 2020!
The pandemic has caused a surprising rebound for the unions – participation is now higher than it's been in 15 years. Click here to read more.
CBTU wishes all workers happy Labour Day! Click here to read more.
Infrastructure Ontario and Grandview Children's Centre have issued a request for qualifications (RFQ) for teams to design, build and finance the Grandview Children's Treatment Centre Redevelopment Project.
The mayor of Toronto says he is committed to working with construction companies, unions and associations – to make sure the issue of anti-Black racism within the industry "is visibly and effectively addressed so that racism of all kinds and in particular anti-Black racism is eradicated."
The Ontario government is providing $37 million to help more than 15,000 people train for new jobs and upgrade their skills to enable them to contribute to the province's economic recovery.
Funding will support 86 projects in high-demand skills including construction, information technology, advanced manufacturing, truck driving, and horticulture with internships and other hands-on learning experiences.
Construction's workforce is ageing. The typical worker in the industry is now aged 45 or older, with the 60+ age group increasing more than any other over the past decade.
But age is just another dimension and should not be a barrier to their continued contribution to the sector. As construction employers, we need to understand how age affects our bodies in terms of capacity and capability and ensure that we have the organisational infrastructure in place to adapt to a workforce with different needs.
As construction starts to embrace new technology, so the robotics industry is starting to create alternatives to manual labour.
While still in its infancy, some construction robots are now either already commercially available, or nearing the point where they could be sold or rented to contractors.
 The Ontario government has gradually reopened all 24 provincial centres for apprenticeship and trade-related certifications, based on the advice of the Chief Medical Officer and provincial health authorities. Apprentices and skilled tradespeople can now book their final exams at their local apprenticeship office.
Ontario is putting a "pause" of four weeks on any further loosening of public health measures in the province, Minister of Health Christine Elliott said Tuesday.
The province reported 185 new cases of COVID-19 on Tuesday, and 190 on Monday — the most on any single day since July 24. Data for both days was released early Tuesday because the province did not issue an updated report on Labour Day.
Additional Information Sources