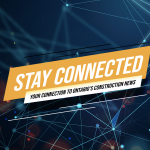 SIGN UP FOR STAY CONNECTED BY FILLING OUT THE FORM BELOW.
These are this week's top stories, regarding the construction industry in Ontario, that you need to know.
Mayor John Tory says he's confident that the building and construction industry will address and combat anti-Black racism following a number of racist incidents at construction sites across the city this summer.
Tory met with leaders from major construction unions on Friday afternoon to discuss how to eradicate anti-Black racism within the industry.
Allowances for larger and taller mass timber buildings have been approved as part of the National Fire Protection Association (NFPA) 5000 Building Construction and Safety Code® and, where applicable, NFPA 101 Life Safety Code®.
Over 1,000 people working on two major projects to power the north. They're bright blue, hard to miss and will be driving around Thunder Bay and northwestern Ontario for the next couple of years. What seems to be hundreds of bright blue pickup trucks, with Valard written on the side door, have popped up in the city and region over the past few months.
A new "COVID-proof" city is being planned in China, designed for people to live in during future lockdowns.
Spanish architects Guallart won a competition to build the community in Xiong'an, and the hope is it will be a model for "a new standard in the post-COVID era" that can be used in cities around the world.
A lumber shortage caused by COVID-19 supply and demand pressures is causing delays and price increases for residential builders and renovators, the Ontario Home Builders Association (OHBA) says.
The slower rebound facing women, youth and low-wage workers could pose a threat to a broader economic recovery from the COVID-19 pandemic, Canada's top central banker said Thursday in a push to find ways to even out an uneven path out of the crisis.
The global pandemic is putting the brakes on a major part of the light rail REM (Réseau express métropolitain) electric train line designed to connect Greater Montreal.
Communication, contract language and risk analysis/planning are vital for contractors seeking to avoid COVID-19 business pitfalls in navigating contracts, bonding and risk relationships in the post-pandemic era.
Have you registered for the 2020 AGM & Conference yet?
The Ontario Construction Secretariat 2020 AGM & Conference is going virtual on Tuesday, October 6, 2020 and we hope you can join us.
Please check your inbox for registration information.
 The Ontario government has gradually reopened all 24 provincial centres for apprenticeship and trade-related certifications, based on the advice of the Chief Medical Officer and provincial health authorities. Apprentices and skilled tradespeople can now book their final exams at their local apprenticeship office.
Ontario is putting a "pause" of four weeks on any further loosening of public health measures in the province, Minister of Health Christine Elliott said Tuesday.
The province reported 185 new cases of COVID-19 on Tuesday, and 190 on Monday — the most on any single day since July 24. Data for both days was released early Tuesday because the province did not issue an updated report on Labour Day.
Additional Information Sources