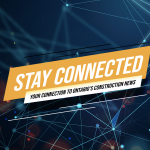 SIGN UP FOR STAY CONNECTED BY FILLING OUT THE FORM BELOW.
These are this week's top stories, regarding the construction industry in Ontario, that you need to know.
"Contractors across the province are trying to catch-up with the backlog caused by COVID-19 and this heightened activity has resulted in an increase in demand for utility locates in many municipalities," says RCCAO executive director Andy Manahan.
The Carpenters' District Council of Ontario (CDCO) has created a new full-time position to assist Canadian military veterans who want to become carpenters.
The Ontario government's fall legislative agenda will focus on job creation, skills training, attracting investment, strengthening communities, and fortifying the front lines of the province's health care system.
Despite the ongoing pandemic, construction has hardly slowed down on the Gordie Howe International Bridge project. Dozens of workers on both sides of the border have remained busy over the last several months, while adhering to COVID-19 safety protocols. The vast workspaces of the bridge project has helped with social distancing.
A massive rehabilitation project is moving forward in Ottawa, with Public Services and Procurement Canada seeking to pre-qualify four architectural and structural engineering firms for a $1 billion overhaul of the Supreme Court.
Three local hospitals in Leeds and Grenville will receive more than $2.3 million from the provincial government to address critical repairs and maintenance, Leeds-Grenville-Thousand Islands and Rideau Lakes MPP Steve Clark announced last week.
The executive director of the Public-Private Partnership Authority (P3A), Fermín E. Fontanés, announced a "positive market response" to the Request for Qualifications (RFQ) issued last August along the Puerto Rico Electric Power Authority (PREPA) for private entities interested in operating, managing, and dismantling one or more of the base-load generation plants and gas turbines island wide (Legacy Generation Assets).
Alberta's construction industry is receiving a $3 million investment from Western Economic Diversification Canada (WD) to help small businesses adopt new technologies that improve the energy efficiency of buildings and reduce greenhouse gas emissions.
One word – uncertainty – describes Ontario's architectural, engineering and construction community's sense of COVID-19's impact as the pandemic approaches the fall and winter seasons.
The Ontario government is launching a recruitment campaign to increase its team of frontline health and safety inspectors by 98 and help ensure workplaces across the province are doing their part to prevent the spread of COVID-19. With these new hires, there will be more labour inspectors on the ground than ever before in the province's history.
Federal Throne Speech – No Time for Austerity
Governor General Julie Payette launched the second session of the 43rd Parliament of Canada by delivering the Speech from the Throne.  Noting that this is our generation's crossroads, the government's approach to helping Canadians in the short-term and to 'building back better' for future generations is based on four main foundations:
Fight the pandemic and save lives
Support people and businesses through the crisis
Build back better to create a stronger, more resilient Canada
Stand up for who we are as Canadians.
Click here to read the full Throne Speech and click here for this complete bulletin.
Have you registered for the 2020 AGM & Conference yet?
The Ontario Construction Secretariat 2020 AGM & Conference is going virtual on Tuesday, October 6, 2020 and we hope you can join us.
Please check your inbox for registration information.
Additional Information Sources