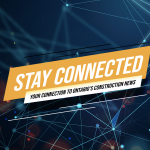 These are this week's top stories, regarding the construction industry in Ontario, that you need to know.
New $10B federal infrastructure plan focuses on green projects, agriculture, broadband
The federal government announced $10 billion in new infrastructure initiatives as part of what is being called the Canada Infrastructure Bank's (CIB) Growth Plan.
The Ontario government is moving forward with 40 major infrastructure projects across the province using the public-private partnership (P3) model. The projects are listed in the most recent P3 Market Update, which was released today by Laurie Scott, Ontario's Minister of Infrastructure.
The Canadian Construction Association (CCA) has launched Talent Fits Here, a campaign designed to encourage more Canadians to consider a career in construction.
Infrastructure Ontario's (IO) Board of Directors appointed Michael Lindsay as IO's new president and CEO, effective Nov. 1. Ontario Minister of Infrastructure Laurie Scott confirmed Michael's appointment and congratulated the new CEO.
"Michael has been a valued member of the IO executive and has extensive experience working in the private sector," said Scott. "I look forward to working with him in this key leadership role."
With the policy priorities announced in last week's Speech from the Throne, the federal government says it is focusing on what needs to be done to beat the COVID pandemic and get the economy back on track. Massive spending on public infrastructure will apparently be an important part of the policy package.
A new impact paper produced by the Conference Board of Canada, in partnership with the Future Skills Centre (FSC), suggests Canada's apprentices and journeypersons need better digital skills training to address demographic gaps and accommodate industry changes.
Unlike no other time in recent history, the global pandemic's economic impact has forced businesses to quickly adapt to working through COVID-19. The construction industry, which is no stranger to unexpected challenges, has come out a strong and steady leader in the wake of this pandemic. Procore's Canadian vice-president Jas Saraw recently sat down with industry leaders during a Canadian Construction Association (CCA) webinar to talk about how they're working through the pandemic and what they expect is next for construction.
As the global pandemic descended on North America last spring, passionate and creative conversations lead to the creation of a modular, ready-to-use solution for COVID-19 screening and testing that would allow communities to re-open.
Additional Information Sources