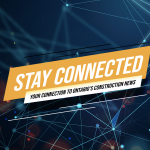 These are this week's top stories, regarding the construction industry in Ontario, that you need to know.
 The Ontario government is making the skilled trades more accessible by investing an additional $75 million over the next two years to help apprentices cover living expenses during their in-class training. The government is also appointing a five-member Skilled Trades Panel to provide advice and recommendations to the Minister of Labour, Training and Skills Development on developing a new approach to training and certification.
Construction stakeholders expressed disappointment but not total surprise that the Workplace Safety and Insurance Board (WSIB) will not be delivering on an expected rate decrease for ICI employers next year.
The question posed in the heading may have many of you scratching your heads in bewilderment, or perhaps you have had an epiphany and know the age-old answer to the query. Either way it does not lessen the fact that our entire construction industry needs to work towards a consorted method of not only attracting talent to construction, but more importantly keeping talent in construction as a career instead of a job.
The International Monetary Fund has told its member governments they can create millions of jobs and boost recovery prospects if they use higher public investment to respond to the severe economic challenge posed by Covid-19.
A Toronto-based organization has developed a digital version of the Ontario Building Code (OBC), which it says it is making available in a free format through web and mobile applications.
The Canadian construction economy is heading into a recession that will see significant declines through next year, especially in the residential, power, religious and educational segments, says Raleigh, NC-based consultant and investment banker FMI Corporation.
The Coronavirus Contractor Survey: Stability & Anxiety is released as the fourth survey in a series of independent studies conducted by the Ontario Construction Secretariat (OCS). Between September 8 and September 18, 2020, the OCS led a Contractor's Survey of 300 ICI contractors from across Ontario.
The survey provides insights on how the construction industry is showing signs of stability but anxiety of a second wave of COVID-19 persists. Contractors are also expressing some concerns about the outlook of 2021.
Click here to view the survey.
Thank you to everyone who attended our first virtual AGM & Conference on Tuesday! Although we could not be together in person, we were thrilled to be able to connect and offer you a front row seat to some fabulous speakers and a full agenda.
Highlights from the morning included keynote speaker Darrell Bicker's presentation where he discussed the known unknowns and left us all with a lot to think about and CIBC's Deputy Chief Economist, Benjamin Tals' return to the OCS stage where he helped us understand the current economic climate and possible outcomes as we emerge from COVID-19.
Did you miss Joe Maloney's presentation? Do you want to go back and see Katherine Jacobs' or Robert Bronk's slides?
Click here for their PowerPoint presentations.
Additional Information Sources