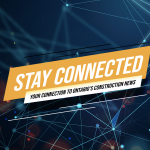 These are this week's top stories, regarding the construction industry in Ontario, that you need to know.
OGCA members are amongst the very safest of any industry in Ontario. They have reduced their Lost Time Injuries (LTI) rate by an amazing 10% to .20 in 2019. That rate compares to rates of 1.12 for the construction industry and .98 for all Ontario employers covered by the WSIB.
In Canada's last downturn, the global financial crisis that played out 12 years ago, government spending on infrastructure came too late to stimulate the economy and get people back to work.
SNC-Lavalin Group Inc. chief executive Ian Edwards wants to ensure politicians of all stripes learn from past mistakes. The head of one of the world's largest engineering companies launched a campaign last week that stresses the need for speed on domestic construction projects.
In celebration of National Women's History Month, the Canadian Apprenticeship Forum (CAF-FCA) is releasing a National Strategy for Supporting Women in Trades.
In 2019, CAF-FCA led a task force of more than 60 skilled trades stakeholders who came together to guide and inform a strategy to create measurable change for women's representation in skilled trades careers in Canada.
Hamilton's mayor says the province wants to make light-rail transit (LRT) happen with a mix of provincial, federal and private-sector money, and he expects the province will say more "in the coming weeks." The feds and the province, meanwhile, are in talks, but both say they still need more details before committing.
The Canadian Construction Association (CCA) is urging all levels of government to support and enhance Canada's economic recovery by maintaining a free-flowing system of trade and labour mobility between provinces.
The McNeil government is refusing to provide specific details about how $228 million in COVID-19 stimulus money is being spent in Nova Scotia. Last month, CBC News requested a detailed list of tenders awarded to date and their value as part of the stimulus program. After weeks of promising the list was coming, on Friday a spokesperson for the Transportation Department said that list won't be produced.
Disappointed. A "head scratcher." Puzzling.
Those are some of the terms being used by several construction industry stakeholders about the recommendations contained in a recently released report from the province's Standing Committee on Finance and Economic Affairs called The Economic Impact of COVID-19 on Infrastructure.
The Coronavirus Contractor Survey: Stability & Anxiety was released as the fourth survey in a series of independent studies conducted by the Ontario Construction Secretariat (OCS). Between September 8 and September 18, 2020, the OCS led a Contractor's Survey of 300 ICI contractors from across Ontario.
The survey provides insights on how the construction industry is showing signs of stability but anxiety of a second wave of COVID-19 persists. Contractors are also expressing some concerns about the outlook of 2021.
Additional Information Sources