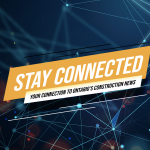 These are this week's top stories, regarding the construction industry in Ontario, that you need to know.
Learn about the panel that engages with industry stakeholders to help modernize the apprenticeship and skilled trades system and share your feedback.
The panel wants you to provide your thoughts on the key components of the new service delivery model.
The Ontario government is introducing legislative and policy measures that would, if passed, accelerate construction of key infrastructure projects to "create jobs and lay the foundation for a strong economic recovery."
COVID-19 has exacerbated many mental health challenges that many Ontarians face daily, including workers in the construction industry. Join us for an afternoon (virtual) symposium to better understand ways to address and prevent chronic stress in our workplaces
Ontario's largest municipalities are asking the federal and provincial governments to provide an immediate funding boost for infrastructure projects, saying cities need the help to stimulate economic recovery from the COVID-19 pandemic. Mayors representing the province's largest cities say the global health crisis has created revenue shortfalls that will prevent municipalities from doing state-of-good-repair work on key pieces of infrastructure.
Despite the tragic impact of COVID-19 on New York City, total construction spending there is forecast to exceed spending in eight of the past 10 years.
Even though Ontario's construction industry has endured its share of challenges throughout the past several months, some experts are warning of a potential second wave of COVID-19. If the number of new cases continue to rise, the construction industry will have to assess their initial response to be able to better protect their workplace health and safety going forward.
The Ontario government is providing up to $1.05 billion in combined federal-provincial funding through the new COVID-19 Resilience infrastructure stream to build or renovate health and safety related projects in long-term care, education, and municipalities. The funding is part of the federal government's Investing in Canada Infrastructure Program and reinforces the commitment of both the federal and provincial governments to protect the health and well-being of individuals and families during the pandemic.
Health-care workers, businesses and non-profits could receive liability protection against COVID-19-related lawsuits under legislation proposed by the Ontario government Tuesday, but critics said the bill would result in extra protection for long-term care providers who failed residents during the pandemic.
The Ontario government will release its 2020 Budget on Thursday, November 5, 2020. It will focus on protecting the health and safety of the people during the COVID-19 pandemic, providing much-needed supports to families, workers, and employers, and laying the foundation for future growth, renewal, and economic recovery.
Stay tuned for a special Bulletin from the OCS following the release, summarizing the budget and how it will affect the industry.
Additional Information Sources