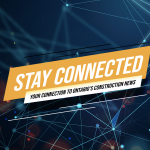 These are this week's top stories, regarding the construction industry in Ontario, that you need to know.
The successful refurbishment of Unit 2 at the Darlington Nuclear Generating Station marked a pivotal milestone for Ontario Power Generation's 10-year, C$12.8 billion overhaul of the plant's four CANDU units.
Ontario's largest municipalities are asking the federal and provincial governments to provide an immediate funding boost for infrastructure projects, saying cities need the help to stimulate economic recovery from the COVID-19 pandemic.
"User-financed construction will strengthen economic growth and competitiveness at a time when Albertans need it most," McIver told a news conference Tuesday prior to introducing the bill in the legislature.
Concrete Ontario (the Ready Mixed Concrete Association of Ontario) has warned contractors that ready-mix concrete and cement shortages are likely this fall because of COVID-19. In a bulletin, the association says pressures from the pandemic will "likely continue to impact the supply of concrete for the foreseeable future."
Read how we are keeping Ontario safe and open, including regional health measures and sector-specific public health and workplace safety measures.
The Standardized Protocols for All Canadian Construction Sites outlines the best practices for construction sites in order to maintain the health and safety of all workers required to perform duties during the COVID-19 crisis. The protocols, which include prevention, detection and response measures, will minimize the impacts of the crisis and ensure business continuity in the construction industry.
Panic. Fear. Misinformation. These are the issues experiences on a construction side when a worker tests positive for COVID-19, explained health and safety professionals during a panel discussion entitled Confirmed Case – Be Prepared to Act Quickly and Effectively.
The panel, where construction firms shared stories of actual case studies onsite and lessons learned, was part of a Preparing Your Workforce During the Second Wave webinar, hosted by the Residential Construction Council of Ontario and the League of Champions.
Ontario Minister of Finance, Rod Phillips, released the 2020 Budget titled Ontario's Action Plan: Protect, Support and Recover. The document is primarily focused on health care, supporting people and economic recovery.
Protect: $15.2 billion to protect people from the COVID-19
Support: $13.5 billion to support families, workers, and employers at greatest risk during the second wave.
Recover: $4.8 billion to remove barriers to growth, create jobs and recover.
The Budget contains some initiatives and spending plans that are of interest to Ontario's unionized ICI construction sector.
On behalf of Canada's Building Trades Unions ("CBTU"), the Canadian Construction Association (CCA) and our combined 1.5 million highly trained and skilled Canadian workers, who generate seven per cent of Canada's GDP, we want to thank you and the Government of Canada for your ongoing efforts to address the needs of our members during the COVID-19 pandemic.
Katherine Jacobs, OCS Director of Research, completed an analysis on the Canadian construction industry titled Non-Residential Capital Investment Intentions in Canada, included in the letter.
Additional Information Sources