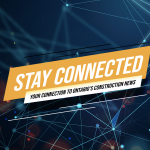 These are this week's top stories, regarding the construction industry in Ontario, that you need to know.
For Carpenters' District Council of Ontario's Chris Campbell, reaching out to help young, disenfranchised people take positive steps towards construction careers is nothing new. For many years, even after his workdays have ended, Campbell has volunteered to support good causes, often steering youth off dead-end streets onto successful paths in the apprenticeship trade. Now, however, that mission will play a larger part of Campbell's job description as he moves from being a business representative to equity diversity representative, a newly created post in the Carpenters' Union.
CDCO president Mike Yorke says veterans bring important skills to the trade, including discipline, attention to detail, strong work ethic and positive attitudes. All 14 Canadian building unions representing over 61 various occupations participate in the program along with their employer counterparts across Canada.
The Ontario government is investing $511,100 in the Pathways to Post-Military Employment program to support the return of 180 military veterans and reservists to civilian life. This program, administered by non-profit organization Helmets to Hardhats Canada, will help veterans draw upon their unique skills and experience and connect them with good jobs in the construction industry.
Last week's provincial budget is getting good reviews from the construction industry, especially for the focus on skilled trades training and digital innovation. On behalf of the Labourers' International Union of North America, Joe Mancinelli, LiUNA International vice-president and regional manager for central & eastern Canada, commended the province for its "significant focus on skilled trades."
Canadian construction continues to rebound in Quebec, British Columbia, and Ontario, while Alberta continues to slow: Procore Construction Activity Index
Procore Technologies, Inc, a leading provider of construction management software, today published the latest worker hours report for the Canadian construction industry which showed construction activity during the COVID-19 pandemic continues to recover in Canada after an initial drop in the spring. While Quebec has seen the strongest rebound of all of the included provinces, Alberta continues to experience less activity than before the pandemic. The figures were published as part of Procore's Construction Activity Index.
The joint partnership between federal crown corporation Canada Lands Company, and three local First Nations — Musqueam, Squamish, and Tsleil-Waututh (MST) — has submitted the rezoning application for the redevelopment of the former RCMP headquarters.
Despite promising COVID-19 vaccine candidates on the horizon worldwide, experts say Canada needs to overcome major hurdles before it can develop rollout strategies to get the right shot into Canadians' arms.
According to James Morrison, director, performance solutions operations, for Finning, during COVID-19 one of the ways they were able to support customers was the use of remote monitoring technology. "When COVID-19 started, access to sites and equipment was limited, but we were able to use remote services to support our customers and provide them with the confidence that equipment would be ready to go when they needed it," said Morrison. "Yes, we had to change the way we did business, but the data gave us the confidence we were not compromising customer service or the long-term health of equipment."
The Standardized Protocols for All Canadian Construction Sites outlines the best practices for construction sites in order to maintain the health and safety of all workers required to perform duties during the COVID-19 crisis. The protocols, which include prevention, detection and response measures, will minimize the impacts of the crisis and ensure business continuity in the construction industry.
On behalf of building trade construction unions and contractor partners, the Ontario Construction Secretariat donated $100,000 to assist Helmets to Hardhats (H2H) aid in streamlining the pathways to apprenticeships, advanced training and career placement opportunities in the construction industry for the men and women who have served our country. Helmets to Hardhats is a not-for-profit organization dedicated to assisting veterans who are transitioning from military service, and active reservists, into second careers in the skilled trades.
Additional Information Sources