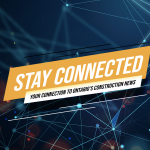 These are this week's top stories, regarding the construction industry in Ontario, that you need to know.
Canada's minister of infrastructure and communities has committed to developing a national infrastructure assessment initiative to identify long-term infrastructure needs and priorities. Catherine McKenna made the announcement at the 28th annual Canadian Council for Public-Private Partnerships virtual conference. The three-day event kicked off Nov. 17.
Ontario building trades executive Patrick Dillon says he regrets that the provincial government felt it had to "blow up" the Ontario College of Trades (OCOT) but since it has, his council will work hard to ensure that essential components of the college that worked well are retained. Dillon, business manager of the Provincial Building and Construction Trades Council of Ontario, delivered a report with the council's phase one reform recommendations to the province's new Skilled Trades panel during a recent consultation session.
CDCO president Mike Yorke says veterans bring important skills to the trade, including discipline, attention to detail, strong work ethic and positive attitudes. All 14 Canadian building unions representing over 61 various occupations participate in the program along with their employer counterparts across Canada.
The accompanying tables show the top 10 major upcoming Private and Government Office Building construction projects in Canada. They are all in the planning stage and are mainly new projects but may also involve additions and/or alterations.
Ontario Power Generation (OPG) says it's resuming planning activities for a new nuclear power reactor at its Darlington site. OPG says the small modular reactor is scheduled to be completed by 2028. Ken Hartwick, the president and CEO of OPG, says the project will help make Ontario's Durham Region "the clean energy capital of the world."
Teenager Cassidy Atkinons knows she wants to eventually work in a skilled trade but after giving plumping a try her interest in the line sort of drained away. So, the 16-year-old General Amherst student jumped at the chance to apply for the new Enhanced Construction Program being offered by the Greater Essex County District School Board through a partnership with the United Brotherhood od Carpenters and Joiners of America.
The Greater Toronto Area is proving a magnet for construction innovation especially in the city's downtown where building activity is brisk, and schedules are demanding. To help meet deadlines, climbing formwork systems for concrete cores have made technological leaps in recent years.
Turner & Townsend has released a new supplemental report to its annual Canada Construction Market Intelligence report. The report noted that while Canada and the rest of the world continue the fight to flatten the curve, economic recovery remains slow. The future is unpredictable, the report argued, but with its strong economic and political fundamentals, Canada should head into the uncertainty in a position of strength relative to other countries.
The health and safety of workers is a top concern amid the global COVID-19 pandemic. During this time, all parties must place an increased focus on health and safety in order to keep job sites open. Find resources, best practices, and information to help construction employers understand their rights and responsibilities while operating during COVID-19.
Additional Information Sources