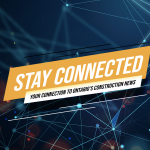 These are this week's top stories, regarding the construction industry in Ontario, that you need to know.
Spending billions on P3 projects won't bring the economic recovery and social development that infrastructure stakeholders yearn for unless there is the skilled workforce in place to get the work done. A panel of workforce experts discussed how labour, governments and industry are working together to overcome Canada's skilled trades gap on Day 2 of the CCPPP Virtual Conference.
Canada Infrastructure Bank (CIB) CEO Ehren Cory had his debut as the CIB's new leader at the CCPPP Virtual Conference. He showed no reluctance in outlining a new path for the infrastructure bank.
The Residential and Civil Construction Alliance of Ontario (RCCAO) says it is grateful for the work that the federal and provincial governments have done to get funds to municipalities but maintains urgent action is still needed to ensure they can balance their budgets.
EllisDon was recently presented with a Milestone Award from the Ontario General Contractors Association (OGCA) for reaching over one million consecutive derived hours worked without a lost-time injury.
The Ontario Ministry of Labour is investigating after a crane collapsed in Toronto last week at the Crosstown LRT construction site. The crane operator was able to get out of the crane safely with no injuries, said Kristin Jenkins, a spokesperson for Crosslinx.
The National Capital Commission (NCC) has issued a Request for Qualifications seeking proposals to build a mixed-use development at Ottawa's LeBreton Flats Library Parcel.
The construction sector has long been accused of resisting technological change, but there are increasing signs that is no longer true. Chief executives from the sector who served as panellists at a recent property technology webinar said they are embracing disruption these days.
More than 70 per cent of Canadian construction companies surveyed by construction management software provider construction software management provider Procore Technologies Inc. had as many or more projects during the first six months of the COVID-19 pandemic compared to before, the company says.
Recent developments in AI technology mean that there are now multiple opportunities where AI can be utilised to aid technological advancements and innovations within the construction industry. Read further to learn about the 5 AI technologies that are likely to shake-up the construction industry over the next decade.
Ontario's construction sector is completely open for business, contrary to a statement made by Ontario Minister of Health Christine Elliott Friday afternoon.  Full details on the provincial announcement can be here.
Ontario is now accepting applications from municipalities for local infrastructure projects under the new local government sub-stream of the COVID-19 Resilience Infrastructure stream to allow local governments to proceed with tendering and procurement as soon as possible.
Additional Information Sources