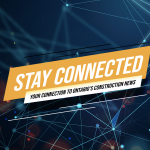 These are this week's top stories, regarding the construction industry in Ontario, that you need to know.
Community Benefits Agreements (CBA) and/or a Social Procurement Agreement (SPA) are defined as agreements that work towards the achievement of strategic social, economic and workforce development goals using an organization's process of purchasing goods and services. Most CBAs and/or SPAs focus on workforce development as an interconnected set of solutions to meet employment needs.
Results of a new five-year study of recycled concrete show that it performs as well, and in several cases, even better than conventional concrete, researchers say.
It has been eight years since Marc Soberano launched Building Up, a social enterprise that provides trades training and work for folks facing employment barriers. Since that time, dozens of trainees have successfully completed the program and many employees have landed full-time positions as drywallers and apprentice carpenters.
Infrastructure Ontario (IO) has entered into new commitments with four eligible organizations to provide financing through its loan program for eligible organizations. The IO loan program is one of Ontario's financing approaches to help municipalities, and other public-sector partners renew Ontario's public infrastructure. IO loans provide affordable, long-term financing in support of infrastructure development.
A research report for the Residential Construction Council of Ontario (RESCON) indicates there are many benefits associated with e-permitting systems, but Canada still has a lot of ground to make up when it comes to investing in digital development approval platforms.
Physical labor will always be at the core of the construction industry. But it's not all about getting dirty, digging holes and working in remote locations anymore. That's why changing the perspective of the younger generation is quickly becoming a top priority. Technology is providing opportunities to attract new workers and will play a big role in bridging the labor gap. But even with a possible big construction infrastructure spend in the next few years, is the industry doing enough to support the workforce of the future?
There's a lot of buzz around self-driving cars, but autonomous driving technology could revolutionize the construction industry first. That industry hasn't changed much over the last several decades, according to some experts, making it an ideal candidate for automation.
INTERNATIONAL & NATIONAL NEWS
It's a challenging time for many as people continue to grapple with the coronavirus pandemic. But on one tiny, yet significant square of the world, Indigenous students are prepping for a new normal by training in clean energy construction.
Ontario's public health effort to use COVID-19 testing and contact tracing to identify and isolate those with the virus was overwhelmed in early October. Ontario has since seen large and sustained case count growth.
State of the Industry & Outlook Conference 2021: HOLD THE DATE!
The Ontario Construction Secretariate's 21st Annual State of the Industry & Outlook Conference will be held virtually on Thursday, March 4, 2021. Registration, agenda, and conference speakers will be announced in early January.
This annual conference is a must-attend event for construction industry professionals who want to hear where the industry is headed in 2021.
Follow @OntConstSec on social media or check out our website for updates.
Additional Information Sources