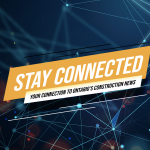 These are this week's top stories, regarding the construction industry in Ontario, that you need to know.
The Union Safety Effect: study update
In 2015, the Institute for Work & Health conducted a study that found unionized companies in Ontario's ICI construction sector had a lower incidence of loss-time injury claims than non-unionized contractors, making them 23% safer. In early January 2021, OCS and IWH will be releasing an update of the Union Safety Effect study.
On January 12, 2021, join Dr. Lynda Robson, IWH scientist, for a virtual presentation of this updated study. Her team of scientists utilized Workplace Safety & Insurance Board data, matched to records of unionization, and multivariable regression modeling to assess the relationship between unionization and injury claim incidence during 2012-2018. In the presentation, Dr. Robson will discuss whether the latest results support what is called a "union safety effect", and how findings vary by company size and types of construction work.
Click here to register for the IWH Speaker Series.
The Ontario Construction Secretariat's 21st Annual State of the Industry & Outlook Conference will be held virtually on Thursday, March 4, 2021.
Registration, agenda, and conference speakers will be announced in early January.
Although Denise Jones will be most remembered for her contributions to the entertainment industry and the Jamaican-Canadian community, those in the construction industry will remember her efforts with the Carpenters' Union to get a school built in her native land of Jamaica.
Jones passed away on Dec. 3 at the age of 64 at her home in Brampton, Ont. She was diagnosed with a brain tumor last year.
The Ontario government is investing $20 million to help small businesses jointly sponsor and train apprentices through the new Group Sponsorship Grant program, increasing the number of people training and working in the skilled trades. The program will reduce pressure on any one employer to see an apprentice through to completion of training and provide apprentices with the support needed to become a registered journeyperson.
The Ontario government introduced the Workplace Safety and Insurance Amendment Act, 2020 that would, if passed, protect employers from an unexpected increase in Workplace Safety and Insurance Board (WSIB) premiums, while maintaining an increase to the maximum earnings cap for worker benefits.
The safety of your workers should be one of your top concerns, and you can improve construction site safety by implementing these seven tips. By implementing these tips, you will be reducing the risk of your workers getting hurt on the job. This will allow your team to stay on schedule and get the job done on time.
INTERNATIONAL & NATIONAL NEWS
A first ministers meeting on December 10 was supposed to be devoted to long-term, federal health care funding seems destined to be hijacked by a more urgent priority: surviving the COVID-19 pandemic. Premiers asked for the meeting in September and wanted it focused exclusively on their unanimous demand that Ottawa add at least $28 billion a year to its annual health transfer payment to provinces and territories.
Ontario Premier Doug Ford will no longer hold the daily COVID-19 briefings that have been a hallmark of his government's response to the pandemic since its beginning.
The Ontario government, in consultation with the Chief Medical Officer of Health, is extending all orders currently in force under the Reopening Ontario (A Flexible Response to COVID-19) Act, 2020 (ROA) until January 20, 2021. This extension will support the safe delivery of health care and other critical services until COVID-19 vaccines are approved and widely available.
Alberta and Ontario's concrete industries worked through different conditions at the outset of COVID-19 but have both adopted practices for both present and future pandemics. Concrete Alberta executive director Dan Hanson and Concrete Ontario president Bart Kanters took part in the COVID-19: How is the concrete industry dealing with the challenge? session during the Buildings Week virtual conference, with each of them highlighting their respective provinces initial responses and continued action dealing with a global pandemic.
Large-scale developments seem incongruous at a time when Ontario, and indeed the world, has seen its economy devastated by the COVID-19 pandemic. But we must remember that the planning and financing of a large-scale project isn't determined in a matter of weeks or months. The skyscrapers springing up have been in the works for years – they are not going to grind to a halt because of an emergency that has materialized this year. They are going up, and nothing is likely to stop them.
Winter holidays may look a little different this year, but they can still be a lot of fun. We all must make changes to our holiday traditions to help keep everyone safe.The safest way to celebrate in-person is with the people you live with, or with one additional household if you live alone. Celebrate virtually with everyone else.
Find out how to celebrate safely with the people you live with. There are snow many fun and safe things to do this holiday.
Additional Information Sources