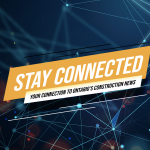 These are this week's top stories, regarding the construction industry in Ontario, that you need to know.
A year end message from our CEO,

Robert Bronk
Undoubtably, it has been an unprecedented year filled with a multitude of both challenges and successes. I would like to send my thoughts to everyone who has been affected by COVID 19 and express my gratitude to frontline and essential workers who have kept us safe in difficult circumstances. Thank you for giving your strength to so many. I would also like to acknowledge the construction industry for being a leader in adopting new on-site safety and sanitation protocols early in the pandemic, ensuring that construction could contribute to the ongoing recovery. 
With 2020 coming to a close in a few short weeks, I am pleased to reflect on the OCS's significant achievements over the past year. What has been truly remarkable during this challenging and uncertain time has been the unwavering commitment of our team to pull together and continue to keep the industry's needs at the forefront.
I am grateful and proud of the OCS and our labour-management-government stakeholders as we have accomplished a great deal that has enhanced the ICI construction industry in Ontario.
Our work focused on a series of Coronavirus Contractor Surveys to supplement our regular updates on the economic and construction industry conditions. In addition, we continued with a strong research agenda focussing on union investment in apprenticeship, safety and upgrade training, demographics and diversity in the unionized ICI construction sector and the Union Safety Effect. Although we had to postpone Future Building 2020, we did host our State of the Industry and Outlook Conference in March and our virtual Annual General Meeting in October.
What I see when I look back on the past year is an organization committed to and delivering on their core values to enhance Ontario's unionized ICI construction industry by developing relationships, facilitating dialogue, and providing value-added research. Through everything, the OCS remains committed to creating timely and relevant research and sharing important updates to assist stakeholders in making informed decisions.
In spite of a global pandemic, we continued to push ourselves to raise the bar in research, industry promotion and innovation, and our team is proud of the work we have done and the partnerships we have grown and developed over the past year. Much of this growth is from your assistance, our industry partners, who have supported us at our events and with our research initiatives. We truly could not have accomplished so much without the support and dedication of the ICI construction industry in Ontario and for that I thank you.
No matter what the economic climate has been, we have persevered together and come out stronger. I encourage everyone to celebrate the holidays safely, no matter what level your region is in. Please, do look after yourselves and your families and stay safe. Let us welcome 2021 warmly and may we synergize and prosper together in the New Year.
Thank you and be well.
Statistics Canada recently released new investment and employment data which shows positive signs for Ontario's ICI construction industry. This Economic Update Bulletin will examine this data.
Happy Holidays: See you in 2021
Please note the next issue of Stay Connected will be distributed on Friday, January 8, 2021. The OCS would like to send you the warmest wishes for a joyful holiday.
"Our thoughts are with these workers who are injured and those who passed away. We pray for them, their families and their colleagues," Monte McNaughton said. "Construction workers are truly heroes. Every day they are on the frontlines everywhere in our province. They know that their friends and neighbours are counting on them to build the projects our communities need."
The Ontario government is investing an additional $21 million in pre-apprenticeship training programs for up to 2,000 people, including at-risk youth, new Canadians, Indigenous peoples and women. Eligible organizations can apply for the funding now, with the call for proposals ending on January 5, 2021.
Algonquin College is leading the $7 million expansion of a national project to help Indigenous youth obtain trades training while attending school. The three-year project, funded by Employment and Social Development Canada, is mandated through Indigenous YouthBuild Canada, a national job-readiness program that brings First Nations communities together with educational institutions, government, and corporate partners to help Indigenous youth acquire job-ready skills while extending their education.
How long it takes to construct a building depends in large part on when the concrete of each floor is strong enough to take on loads. Purdue University engineers have developed sensors that could safely speed up a construction timeline by determining concrete strength directly onsite in real time.
The arrival of the pandemic has brought urgency to infection control issues within the long-term care (LTC) community. Across the country, LTC facilities are consistently among the hardest hit by outbreaks and deaths, highlighting the longstanding need for redesign and refurbishment.
The Carpenters' Union has played an instrumental role in examining the issues around the age and structural integrity, overall design, and accountability throughout the system, including spearheading a recent study that reveals significant findings of concern.
December 14 was a historic day for Ontario and for Canada as the first Health Canada-approved COVID-19 vaccines started to be given to our frontline health care heroes. The milestone officially launches the first phase of the three-phase vaccine implementation plan to keep Ontarians safe and marks the beginning of the long journey to return life back to normal.
Additional Information Sources