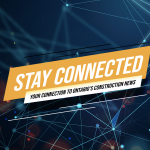 These are this week's top stories, regarding the construction industry in Ontario, that you need to know.
An updated study, which will be released on January 12, 2021, has reaffirmed the union safety effect and found that lost-time injury claims to the Workplace Safety and Insurance Board (WSIB) are 31% lower on unionized construction jobs than they are in a non-union environment.
State of the Industry & Outlook Conference: Registration opens NEXT WEEK!
The Ontario Construction Secretariat's 21st Annual State of the Industry & Outlook Conference will be held virtually on Thursday, March 4, 2021.
Registration will open next week!
Monte McNaughton is confident skilled trade workers will lead Ontario's economic recovery. That is why the minister of labour, training and skills development remains focused on an ambitious effort to address the shortage of skilled trades people needed to make this happen.
INTERNATIONAL & NATIONAL NEWS
Quebec Premier Francois Legault is imposing a provincewide 8 p.m. to 5 a.m. curfew, beginning Saturday, for the next four weeks as a way to halt surging COVID-19 infections and hospitalizations. Construction, as well as manufacturing, however, deemed essential last month, will be allowed to continue operating. The province said activities in each industry should be limited to meet current commitments and keep on-site crews to a minimum.
Consultants at BTY Group say construction activity could pick up in 2021 across the country amid anticipated spending on infrastructure and renewable energy.
The international consulting firm says it predicts construction costs will rise three per cent to five per cent in 2021 for Ontario, British Columbia, and Quebec, with lower spending levels in Alberta and Manitoba amid new restrictions from the COVID-19 pandemic.
All workplace COVID-19 outbreaks in Toronto will be published weekly beginning January 7 in categories determined by Public Health Ontario based on the North American Industry Classification System.
The coronavirus pandemic dramatically transformed the Canadian construction landscape in 2020 with more disruption clearly to come in the new year. The Daily Commercial News and Journal of Commerce invited stakeholders to assess COVID's continuing impacts for 2021 through the lenses of leadership, health and safety, the economy and projects, and innovation.
Additional Information Sources