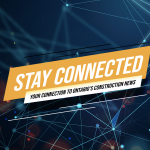 These are this week's top stories, regarding the construction industry in Ontario, that you need to know.
The Institute for Work and Health (IWH), an independent research institute, has re-confirmed findings that a unionized construction job site is a safer job site.
CLICK HERE to download the full report and CLICK HERE to read the media release.
Marky your calendars, the Ontario Construction Secretariat's 21st Annual State of the Industry & Outlook Conference will be held virtually on Thursday, March 4, 2021.
Keep your eyes peeled for some exciting speaker announcements!
On Tuesday, the Ontario government in consultation with the Chief Medical Officer, declared an immediate second provincial emergency under 7.0.1 (1) of the Emergency Management and Civil Protection Act (EMPCA). These measures will come into effect on Thursday, January 14.
Construction projects that are deemed essential and permitted to open under the Provincewide Shutdown can be found here.
You can view the full list of enhanced Provincewide shutdown measures here.
Late Wednesday evening, the Provincial government released the Regulation under the Reopening Ontario Act (2020), clarifying what type of construction work is deemed essential and permitted to remain open.
Stakeholders are suggesting that despite the province declaring that non-essential construction will have to shut down, most of the construction work that was being undertaken before the new state of emergency was announced — perhaps as much as 85 per cent, in one estimate — will continue during the 28-day emergency period.
Established by the Provincial Building and Construction Trades Council of Ontario (PBCTCO), the Ontario Building and Construction Tradeswomen (OBCT) is a committee of tradeswomen working together to advocate for women in the trades to ensure they feel inspired, welcomed, motivated, challenged, and empowered. Through resources, mentorship and support, OBCT is building awareness among women in Ontario that a career in trades is not only an option, but can also benefit women (financial independence, job stability, benefits, leadership opportunities, retiring with a pension, etc.), and retain the women who have already chosen a career in trades.
Click here for OBCT training events.
INTERNATIONAL & NATIONAL NEWS
Prime Minister Justin Trudeau shuffled some key front bench posts in a cabinet shakeup this week, prompted by longtime Liberal Navdeep Bains' decision to step down as a minister.
Bains announced that he will not be running in the next federal election, and would be leaving cabinet, citing a desire to spend more time with his family. He will be staying on as the MP for Mississauga-Malton, Ont. until Canadians next go to the polls. The timing of Bains' departure sparked questions about whether the next federal vote could be looming.
Airports across the United States are devoting more space to freight shipments as online shopping surges in the pandemic. Since the pandemic started nearly a year ago, 15,000 fewer people arrive and depart daily from the Cincinnati/Northern Kentucky International Airport, known as CVG. Yet the 60 percent drop in passenger traffic is not so apparent on the airport's four runways, which are handling a record amount of air cargo — nearly 4,000 tons a day.
Additional Information Sources