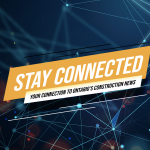 These are this week's top stories, regarding the construction industry in Ontario, that you need to know.
Registration is NOW OPEN for the 21st Annual State of the Industry & Outlook Conference (SIOC) on Thursday, March 4, 2021. You won't want to miss this event as we will be discussing the direction the construction industry is headed in 2021, what you can expect from Ontario's economy, and how COVID-19 has affected health and safety practices in construction.
Last March, we heard from CIBC's Deputy Chief Economist, Benjamin Tal at our economic conference and we are thrilled to welcome him back for the second year in a row to discuss the state of the current economic climate, possible outcomes as we continue to live with COVID-19 and sharing insights on what the financial future holds for 2021.
A unionized construction job site is a safer job site, according study sponsored by the Ontario Construction Secretariat (OCS), which represents Ontario construction trade unions and unionized contractors.
"The data doesn't lie, and reaffirms what we have always suspected," OCS CEO Robert Bronk said in a statement last Tuesday. "Preventable incidents hurt people, reduce productivity and affect worker morale. It is encouraging to see data that assures a unionized job is being done properly and safely by people who are fully trained in what their tasks are."
In late 2019 to early 2020, COVID-19 took the world by surprise. It disrupted how people do business worldwide. Responding to the pandemic has opened doors for all businesses and industries (including the construction industry, consultants, and constructors) to be creative in their responses to new challenges.
Home renovation projects that are got started on or before Jan. 12 can continue, but any project that is in the planning phase must be shutdown for now, under the province's new construction rules. The rules are part of tightened COVID-19 restrictions filed Wednesday in the Reopening Ontario Act, after Ontario entered a state of emergency to try and prevent hospitals from being overwhelmed by the pandemic.
"The partnership with York, Fengate and LPFCEC will provide York with growth capital to continue to execute on its robust pipeline of M&A (mergers and acquisitions) and other strategic opportunities."
The statement says York has provided excavation, demolition, shoring, environmental remediation, contaminated soil treatment and transfer, and waste collection and transfer services to some of the largest infrastructure, commercial, and residential projects in the Greater Toronto Area, including Rogers Centre, Scotiabank Arena, Scotia Plaza, Metro Toronto Convention Centre, Roy Thomson Hall, St. Joseph's Hospital, Eaton Centre, and CN Tower, among others.
According to research from KPMG, 90 per cent of Canadian building and construction firms are investing in digital technology to build a competitive advantage, yet 80 per cent expect to spend less than five per cent of their revenue on digital transformation. And while construction has been slower than many industries to digitize, more organizations are now leveraging tools to simplify their day-to-day processes and are making it a priority.
INTERNATIONAL & NATIONAL NEWS
The Biden administration's legislative ideas are coming into sharper focus, starting with a $1.9-trillion coronavirus "rescue" plan that includes only a small list of construction-related provisions. But what has captured construction executives' interest is the second item on incoming President Joe Biden's Capitol Hill agenda: an economic recovery proposal due in February that Biden says will "make historic investments in infrastructure, along with manufacturing, research and development and clean energy."
Quebec's labour minister is threatening to impose more restrictions on the province's construction and manufacturing sectors for allegedly flouting health orders. The new measures — in effect until at least Feb. 8 — require the two industries to limit operations to essential activities and to reduce the number of workers in factories and on construction sites. Most other businesses across Quebec deemed non-essential have been closed since December.
Canada's pandemic-weary economy is poised to "take off like a rocket" in the latter part of 2021, according to CIBC World Markets deputy chief economist Benjamin Tal. With a vaccine now on the horizon and two-thirds of Canada's economy already chugging along in close to high gear, he said the country is poised for a strong recovery.
"Clearly we are seeing the light and this light is not a train, it is a real light," he said, noting, however, that the next few months could still be quite difficult. "We have to go through the winter. The winter will be tough, we all know that.
Additional Information Sources