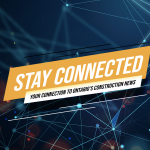 These are this week's top stories, regarding the construction industry in Ontario, that you need to know.
Known as one of the most influential political analysts of our time, we are thrilled to announce that David Frum is making his return to the OCS (virtual) stage as our keynote speaker for the State of the Industry and Outlook Conference.
How will Canadian businesses be affected now that President Biden has been elected? What is the biggest difference between the United States and the rest of the developed world in regard to the pandemic?
Join the Ontario Construction Secretariat on Thursday, March 4, 2021 at the 21st Annual State of the Industry and Outlook Conference as David Frum helps shed light on what the current political climate will mean for the construction industry.
As Ontario struggles to beat back a dire wave of COVID-19, workplace spread has been singled out by public health experts, mayors and top health officials as a major source of infections.
The Ontario government is providing more than $2.3 million to McMaster University and the University of Toronto through the Ontario Together Fund to carry out research, development and testing of the next generation of Personal Protective Equipment (PPE). These projects will help improve the technology and better protect frontline workers.
With record new cases of COVID-19 leading the government to adopt measures to limit the spread of the virus to almost the same degree of harshness as in March of last year, there is a real risk that the recently announced lockdowns will cause growth to stall in the first quarter of 2021. This prospect is exacerbated by the federal government's recent announcement that its already glacial pace of vaccine delivery will be further interrupted due to production problems at Pfizer-BioNTech's drug-making plant in Belgium. While this unexpected glitch in vaccine distribution does not extinguish the light at the end of the tunnel, it certainly extends the length of the tunnel.
A new apprenticeship and skilled trades survey in Ontario aim to have everyone's voices heard on how to better encourage more young people to pursue a career in the skilled trades.
The Honourable Laurie Scott, Minister of Infrastructure, announced a $200-million investment in municipalities through the 2021 Ontario Community Infrastructure Fund (OCIF) to help 424 small, rural and northern communities build and repair roads, bridges, water and wastewater infrastructure.
The demand for dump trucks has skyrocketed in Ontario following a decision by the provincial government to start enforcing the so-called SPIF regime.
In fact, the demand is so high, dealers and suppliers say they will be unable to deliver the equipment until later this yea
Additional Information Sources