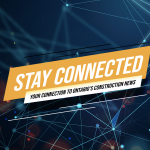 These are this week's top stories, regarding the construction industry in Ontario, that you need to know.
We hope you and your colleagues are excited to share the news about the unionized construction industry's strong safety advantage. You should be proud of being a safety leader in Ontario's construction industry.
To assist the OCS in circulating the positive findings, we have prepared an engaging infographic to convey this information clearly and concisely.
Click here to choose your poster size and download the infographic.
The Ontario Construction Secretariat's 2021 Contractor Survey will be released as part of the 21st Annual State of the Industry & Outlook Conference on Thursday, March 4, 2021. This survey provides a unique perspective of the state of the industry and Ontario's construction economy.
You will have the opportunity to hear from our own, Katherine Jacobs, Director of Research, as she provides highlights from the OCS's Contractor Survey and how the construction industry is still showing signs of stability, but anxiety remains as contractors navigate their way through the second wave of COVID-19.
Returning to the stage, CIBC's Deputy Chief Economist, Benjamin Tal, who will be discussing the state of the current economic climate as well as Senior Editor at The Atlantic, David Frum, who will shed light on what the current political climate will mean for the construction industry.
Click here to register, access the full agenda and review the speaker bios.
Out of concern for the health and safety of our community and in line with the recent declaration of emergency, public health measures, and restrictions, we are extremely disappointed to inform you that this year's Future Building event has been cancelled.
We had high hopes to be able to meet safely in person this spring, but if we learned anything in 2020 it is how rapidly the pandemic evolves.
Though it is true, Future Building 2021 will no longer take place, we continue to strive towards bringing this one-of-a-kind event back, when it is safe to do so, giving young career seekers hands-on exposure to more than 20 skilled construction trades but no decisions have been made yet.
Statistics Canada released the remainder of 2020's building permit values this morning, which show that despite the economic disruptions caused by the pandemic, ICI permit values have only seen a modest decline in Ontario this calendar year.
The full Economic Bulletin can be found here.
From subtle systemic racism in awarding contracts to outright hate-motivated incidents at job sites, a new Black builders' association wants to lay the foundation for a fairer construction industry. Sephton Spence of Kubbie Construction Inc. says seeing racist graffiti on construction hoarding and nooses left at the construction site at Michael Garron Hospital sped up the group's plans.
The group was formed in the fall, but the Afro Canadian Contractors Association (ACCA) is marking the start of Black History Month. The group hopes to help break down barriers that Black contractors face trying to get started in the business and if they are established, help land more lucrative contracts for larger projects.
The Ontario Government amended the Regulation related to businesses permitted to open to permit the following construction work:
Construction activities or projects and related services, including land surveying and demolition services, that,
(g) were commenced before January 12, 2021 and that would,
(iii) provide additional capacity to, or enhance the efficiency or
operations of, businesses that extract, manufacture, process and
distribute goods, products, equipment, and materials.
 Ontario Premier Doug Ford says that there could be an announcement next week regarding the eventual reopening of the economy. Ford made the comment as he toured a new COVID-19 testing facility at Pearson International Airport on Wednesday afternoon.
EllisDon, one of the two prime contractors working at the large multi-use site, employed rapid antigen test screening on 600 workers at The Well the week of Jan. 25 as part of a pilot project the MLTSD has initiated.
Several southwestern Ontario communities will share over $6 million to address local infrastructure needs.
"It is a privilege to support our local municipalities through this funding, which is especially critical during the current COVID-19 pandemic," said Sarnia-Lambton's MPP Bob Bailey. "With more than $6.2 million in support, our government is helping Sarnia-Lambton municipalities when the need is most urgent. This funding will create jobs, spur economic growth and investment, and make our communities better places to live and grow."
Building Up, a non-profit construction pre-apprenticeship program, was launched in Toronto in 2015 as a way to fill distinct social gaps — to create pathways for individuals who are living troubled lives to access apprenticeships in the construction trades, and to upgrade and create efficiencies in the city's old housing stock where some of those potential clients might be living.
Additional Information Sources