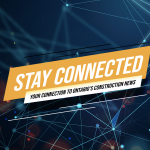 These are this week's top stories, regarding the construction industry in Ontario, that you need to know.
We hope you and your colleagues are excited to share the news about the unionized construction industry's strong safety advantage. You should be proud of being a safety leader in Ontario's construction industry.
To assist the OCS in circulating the positive findings, we have prepared an engaging infographic to convey this information clearly and concisely.
Click here to choose your poster size and download the infographic.
New sets of data have been released by Statistics Canada in recent days, providing more clarity on conditions in Ontario's ICI construction industry at the end of 2020, and the economy as a whole. While indicators have been positive, new labour force data has begun to show the negative impact of recent economic restrictions.
The full Economic Bulletin can be found here.
A free co-branded version of the 'Unionized Construction Work is Safe Work' poster is available to building trade union organizations and/or their contractor partners upon request. The OCS will require a high-res file of your logo, and we will prepare a digital and/or print-ready file for you to use in your promotion efforts.
To request a FREE digital version of the partnership infographic, send an email along with your hi-res logo to info@iciconstruction.com.
As we celebrate Black History Month in Ontario, the Carpenters District Council is reflecting on their successful efforts to increase diversity in the trade. At the same time, carpenters are looking for new ways to reach Black youth, men and women and encourage them to give the trades a try.
Crosslinx Transit Solutions, the consortium building the Eglinton Crosstown LRT, has launched a rapid COVID-19 testing program at all construction sites.
"Crosslinx is committed to remaining an industry leader when it comes to protecting the health of the people who are building this project in communities right across Eglinton," said Bill Henry, Crosslinx president and project director.
The Ontario government has launched a consultation to modernize first aid requirements, with a focus on a proposal to enhance health and safety training standards at all workplaces. According to the government's recent release, the public will be able to provide input until February 22, 2021 and will be used to inform the development of a potential new first aid regulation under the Occupational Health and Safety Act (OHSA).
When COVID-19 first appeared on the scene last winter, it resulted in a lockdown that lasted through the spring and into the summer, with numerous businesses and sectors deemed non-essential required to close their doors. The construction industry was excluded from the list of sectors deemed non-essential and proceeded to have a pretty good year in terms of housing construction, resales, and renovations.
According to data from the Ontario Home Builders' Association (OHBA), the number of new starts from January to December last year totalled 78,916. December numbers aren't available yet from the Canada Mortgage Housing Corporation (CMHC), but even without them it's still an increase from the 67,864 starts for all of 2019.
Investing in public transit infrastructure shortens commute times for families, creates good middle-class jobs, grows our economy, and cuts air pollution. Since 2015, the Government of Canada has invested more than $13 billion in 1,300 public transit projects for communities across Canada. This is the largest public transit investment in Canadian history, and as we build back better from the global COVID-19 pandemic, we will continue to make these smart investments that support Canadians.
The Prime Minister, Justin Trudeau, recently announced $14.9 billion for public transit projects over the next eight years, which includes permanent funding of $3 billion per year for Canadian communities beginning in 2026-27.
Applications are now open for the Ontario government's new two-year $115 million Skills Development Fund. The fund, which will support workers and apprentices, is specifically designed to address the challenges brought on by COVID-19 and help reduce obstacles to hiring, training and retaining while preparing workers for the province's economic recovery.
Additional Information Sources