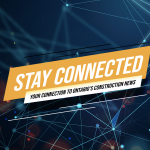 These are this week's top stories, regarding the construction industry in Ontario, that you need to know.
Over 200 industry stakeholders have registered to attend the 21st Annual State of the Industry and Outlook Conference on Thursday, March 4th, consider joining them by registering today!
"I have attended the past three years and have found the speakers highly engaging and insightful. I would definitely come again next year!" – 2020 Conference Attendee
We promise, you will not want to miss this must-attend industry event!
Click here to view the agenda and click here to view our speakers.
The Ontario government is investing up to $2.6 million over two years through the Safer and Vital Communities (SVC) grant to help communities combat hate-motivated crime. The funding will help 26 community-based, not-for-profit organizations and First Nations Chiefs and Band Councils, in collaboration with their police partners, implement local projects that tackle discrimination, foster greater inclusiveness, and address the increase of police-reported hate crime.
The Ontario government is investing $1.2 million over three years to help young Black entrepreneurs and Black-owned tech start-ups access the resources and tools they need to succeed in the province's changing economy. The funding will be provided through Ryerson University DMZ's Black Innovation Programs, which support Black-led businesses by connecting them with customers, capital, experts and a community of entrepreneurs and influencers.
The Ontario government has announced the province's large construction employers will be giving up to 40,000 rapid antigen tests on jobsites each week starting in March.
The Ontario Construction Consortium (OCC) is calling on the provincial government to immediately suspend restrictions that have slowed the construction industry.
The construction industry has an exemplary track record with quantifiable evidence from the WSIB to support our success. As of February 22, 2021, the WSIB noted that of the 16,500 COVID-19 related claims, only 137 were submitted from the construction industry in its entirety. This is less than one half of one percent of all claims.
Like so many other sectors, the trades are not immune from the wave of baby boomers set to retire in the coming decade, adding urgency to the recruitment of younger and underrepresented people, those in construction say. While the pandemic has resulted in a short-term slowdown and job losses for the construction industry, the long-term outlook will be largely affected by the retiring generation, industry insiders say; this will require efforts to recruit new blood to the skilled trades.
The City of Toronto's Community Benefits Framework was adopted by Council in 2019, seeking to leverage options including procurement, real estate transactions, or financial incentives in an aim to remove inclusivity barriers and create equitable economic workforce opportunities for communities where projects are in planning.
There is plenty of government money available for Canadian construction companies that want financial assistance on a project, at least in theory. In practice, however, it can be a different story.
Additional Information Sources