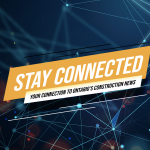 These are this week's top stories, regarding the construction industry in Ontario, that you need to know.
The half-day conference will facilitate valuable professional development, provide insight on the economic climate for the year, and examine what construction health and safety practices could look like in a post-pandemic world.
Click here to view the agenda and see who else is attending!
With almost 200 stakeholders and construction industry professionals registered, you can expect lots of thought-provoking ideas and exclusive intel from our stellar line-up of speakers.
Use the hashtag #OCSOutlook on Twitter, Facebook and LinkedIn when talking about the conference and to see what others are saying.
A free co-branded version of the 'Unionized Construction Work is Safe Work' poster is available to building trade union organizations and/or their contractor partners upon request.
Add your name to the list!
So far, we've partnered with:
Mechanical Contractors Association
Millwrights Local 2309
Interior Finishing Systems Training Centre
Labourers' International Union Training Centre Local 506
TESC
College of Carpenters and Allied Trades
To request a FREE digital version of the partnership infographic, send an email along with your hi-res logo to info@iciconstruction.com and we will prepare a digital and/or print-ready file for you to use in your promotion efforts.
The Toronto Community Benefits Network has sponsored a series of profiles which demonstrates Black contribution to, and involvement in, the local construction industry. During Black History Month these profiles will be seen in local papers and on social media.
Workplace Safety and Insurance Board (WSIB) chair Elizabeth Witmer said in a recent interview that the agency remains financially sound despite having to pay out almost 15,000 COVID-19 claims since the start of the pandemic.
The federal government is promising cash-strapped cities $14.9 billion in permanent funding for their public-transit systems — though most of the money will not be available for several years.
Millennials and Gen Zers are an elusive mystery to anybody over forty. They're known for having big ideas, changing the status quo and looking for new, positive life experiences.
They also bring with them a new way of looking at company culture and work-life. But how do you, as a company, evolve to meet the new generations' expectations?
Emerging robotics technology may soon help construction companies and contractors create buildings in less time at higher quality and at lower costs.
Purdue University innovators developed and are testing a novel construction robotic system that uses an innovative mechanical design with advances in computer vision sensing technology to work in a construction setting.
Additional Information Sources