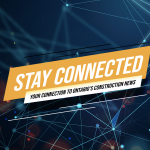 These are this week's top stories, regarding the construction industry in Ontario, that you need to know.
Thank you to those who attened the 21st Annual State of the Industry & Outook Conference. We are thrilled to have brought together such an amazing group of professionals and speakers. We hope you found the day to be beneficial and we look forward to welcoming you again next year.
Digital copies of Katherine Jacobs and Benjamin Tal's presentations are available on the OCS website here.
A digital printer friendly copy of the Contractor Survey is available to download here.
Developers, contractors, unions, associations, and workers are uniting in a growing coalition supporting the Toronto Declaration of Inclusive Workplaces & Communities.
If information is shared effectively through the procurement process, everyone will benefit. Procurement officials should receive better training and education. Buyers must work with providers in a shared responsibility to educate each other about their needs, concerns and abilities.
Ontario's construction economy is expected to continue to experience challenges in 2021, but will fare better than much of the rest of the country and the US overall, says Raleigh, NC-based consultant and investment banker FMI Corporation.
The Ontario government is investing up to $53 million to support the development and construction of the new Grey Bruce Health Services Markdale Hospital.
Additional Information Sources