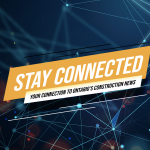 These are this week's top stories, regarding the construction industry in Ontario, that you need to know.
Your feedback is important to us
Thank you to everyone who attended the 21st Annual State of the Industry & Outlook Conference, we are so happy to be able to bring together such a large group of industry professionals.
Please take a moment to help us improve future events by participating in a brief survey and you will receive a $10 digital Tim Hortons gift card.
Your feedback is exceptionally valuable to our ongoing effort to offer value added content and in making improvements to the attendee experience at each event. If you were unable to attend, your feedback is equally as important, and we would greatly appreciate your feedback as well.
Click here to take the survey.
You can help the OCS circulate the positive findings of the Union Safety Effect Report by sharing our videos and posts on social media or we have prepared a free engaging infographic, available to download in a variety of different sizes.
The OCS is also offering building trades union organizations, signatory contractors, and union contractor associations a partnership opportunity to help promote the results of the study. A free co-branded version of the poster is available upon request. Our current partners include, Architectural Glass & Metal Contractors Association (AGMCA), Carpenters Union, Carpenters CCAT, Helmets to Hardhats, IBEW Construction Council of Ontario, Interior Finishing Systems Training Centre (IFSTC), LiUNA Local 506, Mechanical Contractors Association of Ontario (MCAO), Millwrights Local 2309 Toronto, and TESC Contracting Company.
Jill Dunlop, Associate Minister of Children and Women's Issues, issued the following statement to mark International Women's Day: "Today we celebrate International Women's Day – a day to highlight the success and leadership of women around the world and acknowledge the work that lies ahead towards achieving full gender equality…"
Click here to read the full statement.
Celebrating some of the women in our industry and inspiring future generations of strong women in trades. Electricians, plumbers, machine operators, tilers, welders, drywallers, HVAC techs, the list goes on and on. Video directed and edited by IBEW Darci Spiteri.
Business Elite Canada's monthly magazine is now available on digital newsstands, profiling the OCS and some of our industry partners. BEC has championed Canadian companies and entrepreneurs behind the world's most ambitious and innovative projects.
Click here to read the latest issue.
Statistics Canada reports that January rang in the new year with a record high total value of building permits issued, rising 8.2% to $9.9 billion and surpassing the previous record of $9.6 billion set in April 2019. These gains were driven primarily by the residential sector.
Hope grows as Province continues to receive more vaccines. Premier Doug Ford issued the linked statement to mark the significant milestones achieved since COVID-19 was declared a Global Pandemic by the World Health Organization on March 11, 2020:
COVID-19 construction restrictions have been lifted throughout Ontario, following the provincial government's decision to lift lockdown restrictions in Peel and Toronto public health zones effective 12:01 a.m. on Monday. Other areas of the province were able to return to full business operations earlier. However, the ongoing lockdown in Toronto and Peel affected many sites not subject to exemption from the emergency regulations.
Calling the pandemic "the most abnormal recession" ever in Canada, leading economist Benjamin Tal, deputy chief economist with CIBC Capital Markets, sees the country's economy poised for an even stronger climb to recovery in the second half of 2021 than has been projected by the Bank of Canada.
After falling back significantly in 2020, expenditures on non-residential construction and machinery and equipment are expected to rebound in 2021, a Statistics Canada report concludes.
Mechanical contractors working in and around Hamilton and Niagara, as well as Halton, Brant, Haldimand and Norfolk Counties, will see hours approach close to normal levels this year. The Mechanical Contractors Association of Hamilton Niagara (MCAHN) is forecasting a return to almost 80 per cent of pre-COVID hours in 2021 following an inevitable slowdown in 2020.
Additional Information Sources