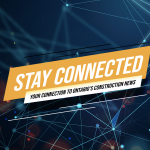 These are this week's top stories, regarding the construction industry in Ontario, that you need to know.
Unionized Construction Work is Safe Work – 31% safer in fact!
"The data doesn't lie and reaffirms what we have always suspected." – Robert Bronk, OCS Chief Executive Officer
Visit iciconstruction.com to learn more.
You can help the OCS circulate the positive findings of the Union Safety Effect Report by sharing our videos and posts on social media or we have prepared a free engaging infographic, available to download in a variety of different sizes.
New sets of data have been released by Statistics Canada in recent days, providing indications of where Ontario's construction industry stands at the start of 2021.
This bulletin looks at both ICI investment and construction employment figures.
Highlights of this bulletin include:
ICI investment has been stable for several months
January 2021 ICI investment is only marginally lower than in January 2020
Construction employment in Ontario has only seen slight declines in January and February despite workplace restrictions
Ontario's overall unemployment rate fell in February
The full Economic Bulletin can be found here.
The Canadian Apprenticeship Forum (CAF) and the International Union of Operating Engineers (IUOE) are working in partnership to develop an interactive online tool to help apprentices prepare for and pass examinations.
A new report finds that women in the skilled trades earn about half what men do, because they are concentrated in lower-paying fields.
The report from the Labour Market Information Council looks specifically at those who received their certifications over a decade ago in 2009 and follows their annual earnings through to 2017.
Click here to view the report.
Two NDP Members of Parliament, backed by Canada's Building Trades Unions (CBTU), have tabled a private member's bill to allow tax deductions for skilled workers who need to move more than 80 km. to accept new employment.
In a statement, CBTU says "flexibility and mobility are common requirements of the construction workforce; employment ends when projects are complete, and construction workers often find the next available job is in another region or even another province."
International Day for the Elimination of Racial Discrimination
The International Day for the Elimination of Racial Discrimination is observed annually on March 21st, in acknowledgement of the day the police in Sharpeville, South Africa, opened fire and killed 69 people at a peaceful demonstration against apartheid "pass laws" in 1960. In recognition of this day, RESCON held a webinar speaking to the need and importance of purposeful and thoughtful action to address racial discrimination. Speakers included: Chief Prevention Officer, Ron Kelusky; Michelle Roberts, IHSA; Varni Tayalan, TCBN; and Nadine Williams, Poet, Author and Speaker. The event was opened by Karly Meness, speaking about her path into the trades as an aboriginal woman.
Have a look at the racial discrimination resources from IHSA including a recent article titled Rejecting racism is an obligation for Ontario workplaces and resources for a  Racial Discrimination in the Workplace Safety Talk.
Do you know a contractor, union or individual in Ontario that is leading the way by working together to increase the participation of Black, Indigenous and racialized workers in the construction industry? If so, nominate them for an inaugural Building Diversity Award. Nominations close on March 30. More information is available at www.buildingdiversity.ca.
The pandemic is helping to "put the 'health' back into health and safety" in the construction industry. That is the message from Modern Niagara's vice-president Erin Oliver, one of four speakers on a panel examining the state of health and safety in a post-pandemic world at the Ontario Construction Secretariat's virtual convention recently.
Canada's economy added 259,000 jobs last month, whipping past expectations to pull the country closer to pre-pandemic employment levels, with young women staring at the longest road to recovery.
Additional Information Sources